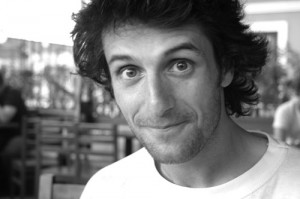 Pierre Amoudry was born on the 3rd of december 1980, in Annecy (France).
He's an illustrator and paintor freelance, from Le Grand-Bornand (the Northerm Alps in France) and he lives currently in Barcelona. He works in the collective artist studio with the artist MVIN.
– Graduate of the Emile Cohl school in Lyon in 2005 (specialising in illustration and comics), Pierre set out on a one year journey with two musicians (Arnaud Astruc and Benjamin Fournier-Bidoz).
He created drawings, paintings and comics of his travels in 2006 and 2007 all across East European and West African roads.
The website (see www.terre-de-notes.com) was awarded prizes by the Travel Book's Biannual in Clermont-Ferrand (France) in 2006 and by the Festival of Internet Creations in Romans (France) in 2007. Since « Terre de Notes », Pierre travels each year to make different sketch books, the five last ones being Argentina, Cuba, Madrid, Tokyo and Brazil.
– Since 2008 and in addition to his work as illustrator, Pierre has been directing the artistic creations of collectively painted murals with the company "Melting Paint" (see www.meltingpaint.com).